Camping is an awesome activity that is best shared with your favourite people. It can be an awesome experience for families to bond and spend more precious time together, and it can be a great opportunity for friends to get together to swap stories and drink around the campfire. However, there's something really rather special about laying out under the stars with that very special someone. So, if you want to treat your better half to a romantic camping trip: here are a few snuggly tips to try.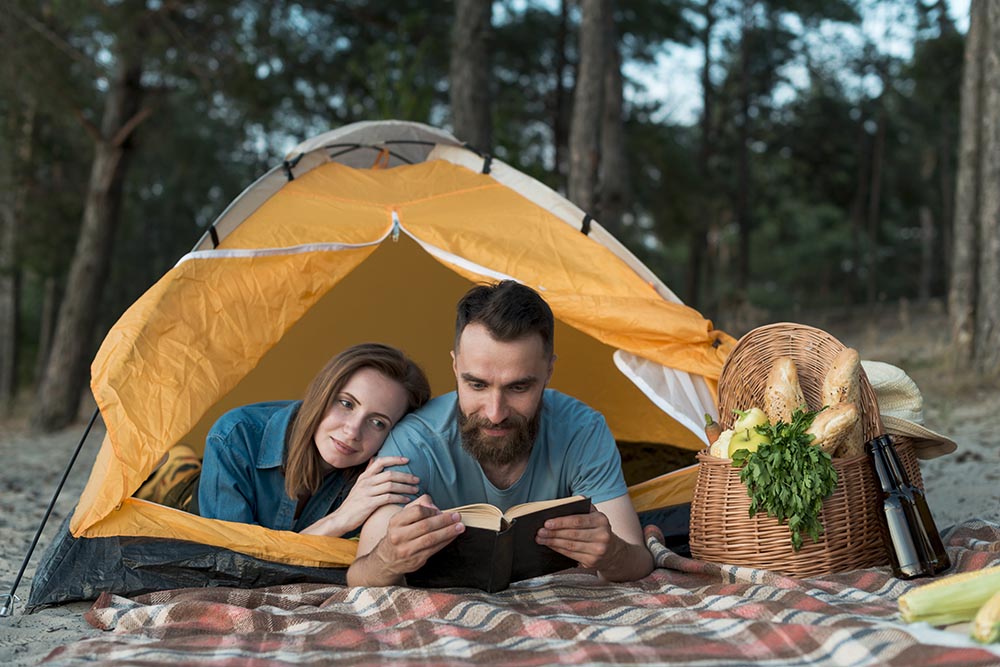 1 – Grab yourself a double sleeping bag
Double sleeping bags are simply perfect for getting cosy during a cold winter camping trip. You'll have enough space to shift around and get comfortable without feeling to claustrophobic. Keep the cold out and the warmth in!
2 – Don't forget to pack the wine
Grab yourself some plastic wine glasses (or actual glass if you have a camp-safe carrier and want to make it extra special), buy a few of your favourite bottles of wine and voila: you've got the perfect setting for sipping on some wine and getting fuzzy with your bestie.
3 – Solar powered string lights
String up some lights inside and outside of your tent for the perfect romantic mood lighting. These can be tied around a tree and strung across your camp area to create a really soothing display and the best part? They'll be powered by the sun throughout the day and the area will be relatively well-lit for when you need a late night wee!
4 – Spice it up with some fire colourants
Mystical Fire is an awesome powdered product that can be tossed onto an open fire to change the colour. If you want to create an extra special moment—for I don't know, a proposal? —then what better a way of doing so than by creating a truly magical fire display?
5 – Pack a camping picnic set
Not only will a camping picnic set help you to stay organised, but you'll also be able to use it when you venture off during the day for a spot of food down by the water. If you bring a decent sized cool box as well, you'll be able to enjoy fresh meats and any other tasty treats that you'd like to introduce to your little romantic feast.
6 – Download or purchase an astronomy guide
This might not be for everyone, however, there's something incredibly special about sitting underneath the stars and allowing yourselves to be swept away in the beauty of it all. And if you want to make it even more special, you can buy an astronomy guide so that you can identify the various constellations together and learn whilst having your mind blown!
7 – Get some comfortable camping mats
Of course, a romantic trip is going to be just as much about what happens inside the tent, as it is outside of the tent. So, make sure that you create an extra comfortably sleeping area! Buy yourself some affordable camping mats and lay down plenty of padding!
(Visited 27 times, 1 visits today)